Something I've done a lot since starting this blog (in addition to looking up information about life on the British Isles during the Stone Age, reading
about a million Alan Moore interviews on the net
,
et cetera
) is flip through my collection of Alan Moore trade paperbacks, looking for ways in which his comics work connects (thematically, stylistically, or otherwise) with his writing in
Voice of the Fire
. I was doing this with my battered and re-re-re-read copy of
Watchmen
and started looking through the "Fearful Symmetry" chapter, which, IMO, still stands as the most amazing display of formal virtuosity in the history of the comics medium (no, I haven't read
Promethea
yet). My eyes wander to the 6th and 7th panels of page 22 (I'm afraid you'll have to follow along in your own copies at home, folks - our scanner is presently covered under a small mountain of paper), in which the one cop is looking into the Comedian's file. I notice the number on the file:
801108
, which, as Doug Atkinson points out in his excellent
annotations
, is a "palindromic number, and all the numbers in it have vertical and horizontal mirror symmetry," in keeping with the chapter's theme of symmetry and mirroring.
Then, following a weird hunch that I had, I picked up my copy of
DC Universe: The Stories Of Alan Moore
(still my favorite collection of Moore comics, aside from the
Watchmen
TPB) and turned to the page in
The Killing Joke
where Batman is walking in Arkham Asylum in the cell block where Two-Face and the Joker are held. I look at the number on Two-Face's cell -
0751
. Hm - no help there. I look at the number on the Joker's cell -
0801
. A-ha! Aside from the amusing link with the Comedian (a comedian is a joker - geddit?), I figure there's some significance to the number
801
besides that and the mirror symmetry thing. (Are you with me so far?). So I Google
801
and I'm reminded that 801 is a
band
that the musician
Brian Eno
was in back in the 70s. Why is this significant? Well, Alan Moore is a huge fan of Eno's, to the extent of naming a Swamp Thing story that he wrote,
"Another Green World"
after
an Eno song of the same name
. Wait! It gets better! The name 801 comes from a lyric in a song called "The True Wheel" from the album
Taking Tiger Mountain (By Strategy)
. The name of the chapter in which we see the Comedian's file, "Fearful Symmetry", is taken from a poem called
"The Tyger"
by
William Blake
. And what's the Comedian's real name?
Why, Edward
Blake
, of course.
Who but Alan Moore could take us from an comics anti-hero to a super-villain to a groundbreaking ambient musician to a visionary poet and then back to the anti-hero?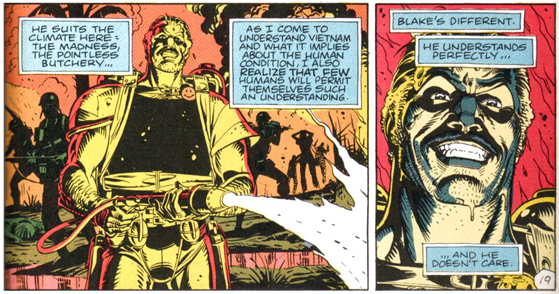 The Comedian in Watchmen. Art by Dave Gibbons
Ad for Batman: The Killing Joke. Art by Brian Bolland
William Blake by Thomas Phillips (Wow! He's huge!)